5th May 2007
Well this is a long one, somewhere in the region of 700 miles each way. The aim is not to cycle the whole way, but to have a fun holiday – to that end, trains and B&B type accommodation will be used in conjunction with camping and cycling.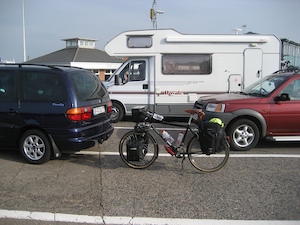 The planned route was to cycle to Wigan, where I get a train to London, then cycle to Harwich for the ferry to the Hook of Holland (Hoek van Holland). Then cycle across the Netherlands and Germany, until I meet up with the EuroVelo route from Berlin to Prague and then head south into Prague.
The trip actually turned out to be a bit of a farce from day one. The ride to Wigan went well, although the supposedly cycle-friendly gates on the canal route are only passable if you don't have panniers. The Virgin train from Wigan North Western to London Euston arrived on time. However, because someone killed themselves on the railway line somewhere in the Milton Keynes area, the train stopped at Northampton and everyone had to get off. Most people continued their journey by bus, but since they generally don't take bikes on the relief buses I was stranded. Fortunately, an hour later saw the arrival of another train that eventually left for London. I arrived at London Euston very late, and set off for Harwich, at Brentwood I decided that it would be better to use the train service again to try and get back on schedule. I left the train at Manningtree, and then cycled the remainder of the journey to Harwich.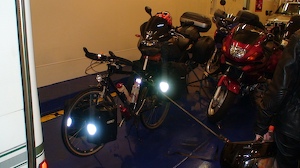 The ferry crossing from Harwich to Hoek van Holland is very long and boring, and a good book would have been most welcome. Once in the Netherlands, I cycled from Hoek van Holland to Zoetemeer, but even this turned out to be more complicated than necessary. There were several diversions to contend with, and I couldn't ride the route I wanted to take. Fortunately the hotel in Zoetemeer was good, and I got a good nights sleep. The following day I covered just over 100km to Veenendaal, but got extremely wet. It rained constantly from morning to night, and there were several points of the ride where it was impossible to see and the lightning was very worrying. All of my cycling clothes were wet, my sleeping bag and tent were wet and my Karrimor panniers proved to be useless in these conditions.
From here on it rained every day until three days before I was due to return to England. So my ride to Prague was completely washed out, I do at least now know that panniers are called fietssassen and Ortlieb ones don"t leak, and the dutch word for a launderette is "wasseretta".
My plans got changed, but I managed to ride every day, and toured around the Netherlands. In total, I covered approx 1,000 miles over the two weeks.