13th April 2008, a bit of a run around our capital.
People keep telling me that a Marathon is really hard, but they only take a few hours. How hard can it be, Dean Karnazes runs 200 miles to a marathon, then runs the marathon, and then runs 200 miles home afterwards.
The only difficulty I'm having at the moment is finding time to train, Christmas and New Year have been wiped out due to a very annoying cough, then I"m in for treatment mid January, which means another two weeks without training. Then I've got another cycle of treatment in March, just four weeks before the London Marathon.
Total Collected: £1989.68
Total Pledged: £1989.68
Target: £1500.00
UPDATE : 25 March 2008
Went for my first post-treatment run with my brother yesterday, I'm still feeling the after effects of the immunoglobulin so it feels like I'm back at square one. Even so, my average time wasn't too disastrous at 10m 24s per mile. Off to the gym again tonight for some treadmill work, hill repeats and speed intervals – of all the training I have done, this workout has done the most to improve my average pace.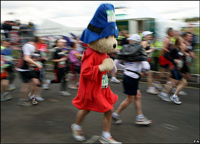 UPDATE : 29 March 2008
Went for a 2 hour run north along the river from Laval, Mayenne, France. I was accompanied by Fabrice for the first half hour, he's my cousins' wifes' sisters' partner, which is a bit of a long story so I won't go into it here. Ran out for 1 hour and then turned around and ran back towards the town, the run back only took 53 minutes and I covered 12.2 miles in total.
UPDATE : 6 April 2008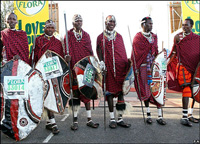 Ran from home to Wigan's JJB stadium and back today, a total of 19.38 miles, which I completed in 3:35. Based on that performance I am predicting a marathon time of between 4:45 and 5:00, which is slower than I have been training for, and a little disappointing. On the day I should perform better, I don't have to carry my own water, my running shoes are lighter than the trail shoes I wore today, and the euphoria of the event should give me a lift too. Oh, and I won"t have to weave around and over fishing poles, dodge the dog poo, avoid rocks and roots and hurdle or straddle puddles that look like you could take a swim in them. I"m still going to push to break 4 hours.
UPDATE : 12 April 2008
I'm now in London and preparing for Sunday, I've got my running number (33593) and timing chip. The hotel is busy, mostly with fellow runners. Today, I'm taking it easy with a trip on the London Eye and a bit of sightseeing. I may go for a quick 1 mile run later on to calibrate my Nike+ footpod, you will notice a very slow 1/2 mile entry on my Nike+ training log, which was me calibrating it for walking pace. For the marathon I will be using my Garmin Forerunner as well, which tracks my entire route by satellite and is very accurate.
UPDATE : 13 April 2008
Official timings and results below. Or you can view my pace graph by clicking here.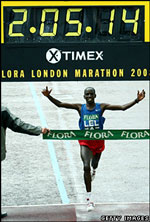 PERSON

Name
Runner No.:
Club
Age group
CRAWLEY, DAVID G (GBR)
33593

M35

TIMES

5 km
10 km
15 km
20 km
half
25 km
30 km
35 km
40 km
finish
0:29:50
1:03:26
1:37:22
2:12:35
2:20:14
2:49:00
3:28:42
4:08:51
4:50:25
5:08:02

TOTAL

Position (overall)
Position (gender)
Position (age group)
Finish time
27562
20202
3791
5:08:02
It's the day after what was one of the hardest endurance events I've done, and if I wasn't so stiff that I can hardly walk I would do it again tomorrow. As it happens I will have to wait until next year, but I have already entered the ballot for the 2009 London Marathon. The crowds were fantastic, and all credit to them for braving the rain and hail and still turning out in their thousands. Thanks to everyone who was handing out jelly babies, drinks, oranges, biscuits they were much appreciated by me and I suspect the majority of other runners.
Obviously my calibration efforts for my Nike+ footpod were a bit awry, since it thinks I ran 23.59 miles, which disagrees with both my Garmin Forerunner and the official Flora London Marathon timing system. The time was massively off too because I didn't stop the sportband receiver properly.
As usual I'm doing this for Action Medical Research, and have to raise £1,500, so all donations will be gratefully received. You can sponsor me online at www.action.org.uk, give generously and don't forget to click the "Gift Aid" option.
Total raised excluding Gift Aid: £1989.68