7th May 2006, starting at Tonbridge Castle, the ride is a 100 mile circular route visiting five other castles in Kent.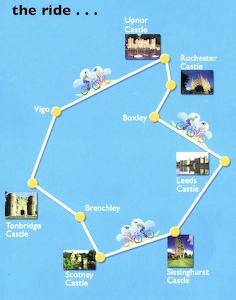 You may think that Kent is quite flat, when you look at a map there are certainly no significant peaks. However, looks can be deceptive and Kent is far from flat, there are lots of small, steep hills to climb and the 100 miles is literally up and down all day long.
Having got my moan about the Kentish terrain out of the way, it should be balanced by the outstanding natural beauty of the county.
I took on this challenge ride with a colleague, and friend, from work. Gavin is a runner, and not a cyclist, but he agreed to give it his best shot. He did next to no training whatsoever, having bought his bicycle just over a week before the ride and had only ridden 35 miles the weekend before. I congratualte him on his sheer determination to finish the ride, which he did. Which just goes to show that provided you have enough determination and will power you can ride 100 miles in a day.
My online sponsorship account for this event is now closed.