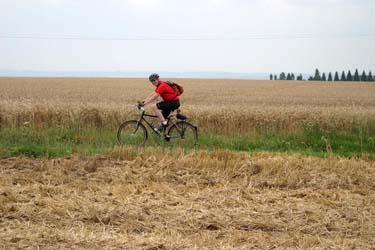 This was my first charity bike ride, 300 miles in 4 days arriving in Paris in time to see Lance Armstrong win his 7th and final Tour de France. I did the ride for Action Medical Research, after my mother's partner found their advert in the Sunday paper and raised £2,739 to help them fund more research programmes.
Day 1 – London to Dover
The day started quite cool, setting off from Blackheath, and riding southeast out of London. The route took us to Rochester, across the river Medway and then down narrow country lanes all the way to Dover. After the initial coolness in the morning, the weather warmed up, and the day turned out to be a scorcher. Not necessarily the best thing for a long-distance cyclist, but welcome nonetheless. Some of us, me included, missed a turning and ended up doing about 30 miles extra.
Day 2 – Calais to Abbeville
After getting the ferry across the channel, we set off for Abbeville. Today was another hot one, and the tarmac actually felt to be sticky, making the going very tough indeed in some places.
Day 3 – Abbeville to Beauvais
Pretty much the same as the ride from Calais, but a little cooler.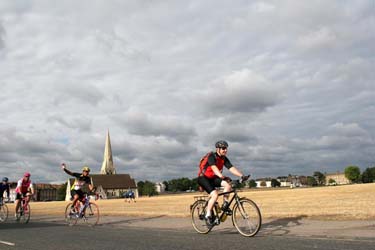 Day 4 – Beauvais to Paris
From Beauvais we cycle to the lunch rendez-vous, from there we cycled into Paris in groups of around 20-30 cyclists, working on the principle of safety in numbers. There was some question whether it would be possible to cycle round the Arc de Triomphe, as it happed we needn't have worried. It's certainly an experience I will never forget, riding round the Arc and then down the Champs-Élysées. I attempted to video this last bit, but the cobbles made the video extremely shaky so it's not the easiest video to watch.